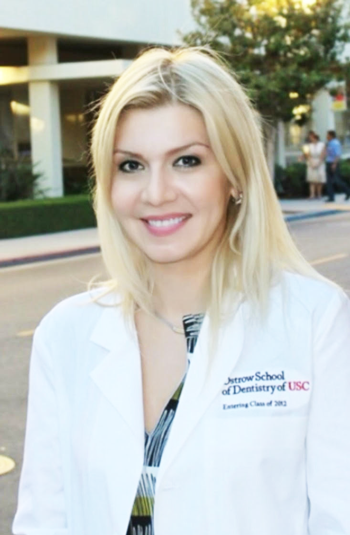 About Dr. Nikoghosyan
Dr. Yulia Nikoghosyan received her Dental degree from the prestigious USC, Herman Ostrow School of Dentistry. She also acquired her D.D.S Degree in Armenia in 1995 .A powerful education of two Dental Schools, and doctoral training provide her with the foundation of knowledge and experience necessary to bring the latest breakthroughs in the field of dentistry .
Her goals are to provide comprehensive care to patients using skills acquired through coursework and practical experience in cosmetic, endodontics, oral surgery , prostodontics, periodontics, geriatric and pediatric dentistry
Doctor Yulia Nikoghosyan was a  preclinical faculty member at University of Southern California. She was passionate about teaching and mentoring dental students.
EXPERIENCE:
– Clinical dental procedures and dental practice operations
– Team building and engaging a diverse staff of employees, volunteers, administrators, and doctors
– Demonstrated skills of critical thinking and problem solving
– Mentoring and tutoring dental students
EDUCATION
Ostrow School of Dentistry of USC
Yerevan State Medical University after M. Heratsi


Experience
YULIA NIKOGHOSYAN DDS , INC.

---
University of Southern California
Dental School Pre-Clinical Faculty
---
Activities and Societies:
AYUDA Humanitarian Dental Group Volunteer

---
American Student Dental Association Member

---
Americal Dental Assosiation ,Member

---
California Dental Assosiation,Member

Languages
Armenian English Russian